January 15, 2020 San Diego, CA
By David Patent, Chief Executive Officer, VizExplorer
There is no such thing as a "slow year" in the casino gaming industry. 2019 saw a flurry of announcements and changes to the gaming landscape. As we open 2020, many of 2019 activities feed into the key Trends to Watch in 2020.
Sports Betting
The US Supreme Court in May 2018 paved the way for legalized sports betting nationwide -- by invalidating a clause in the Professional and Amateur Sports Protection Act -- a 1992 statute that had frozen the number of states allowed to offer sports betting. Sports betting was predicted to be a $2B to $5B industry outside of Nevada when fully mature. Since then, sports betting legalization has proceeded in fits and starts. Twenty months later, 14 States now have operational legalized sports betting, generating $650M of revenue outside Nevada, with New Jersey nearly two thirds of that total. Seven other states have passed bills but are not yet operational, 24 more states have introduced but not passed bills (including CA), and 6 states have nothing cooking.
Key questions for 2020:
What will California do? It is a huge market, and, as usual, the Tribes are largely in control of the agenda. The Tribal bill would allow betting only in person – no online or mobile – and restrict licensed entities to tribal casinos and racetracks. California cardrooms, which the tribes see as operating unlawfully, would be excluded.
Will mobile start to proliferate? Currently, mobile sports wagering is allowed in Indiana, Nevada, New Hampshire, New Jersey, Pennsylvania, Rhode Island, and the District of Columbia. The other states only offer "retail," betting whereby, you have to show up in person to place your bets. In New Jersey, about 80% of wagers come from the mobile app, so mobile appears to be a key for growth and revenue maximization given its convenience and ability to reach people in remote areas.


---
The CZR/El Dorado Merger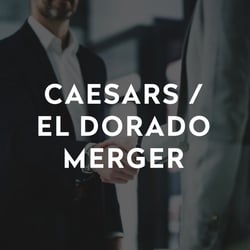 This is a case of the mouse swallowing the snake. Caesars was, if not the most respected brand in Gaming, one of the most prominent and largest from a revenue standpoint. Caesars was still recovering from the disastrous 2008 LBO (when it was Harrah's) that had saddled the company with $24B of debt just as the Great Recession took hold. The company struggled to make its interest payments and eventually filed for bankruptcy in 2015, emerging two years later with a reduced debt load, but a roster of aging properties with billions in deferred maintenance capital and still a fairly high level of debt. In 2019, along came Carl Icahn, who bought a significant interest in Caesars, installed his pick as CEO, and pushed for a merger. El Dorado, which, just a few years ago was a marginal regional operator, had grown substantially since 2014 with a number of acquisitions, including MTR Gaming in 2015 and Isle of Capri in 2017, going from less than $50M in EBITDA to about $700M in 2019.
Key questions for 2020:
When will the deal close? The merger received shareholder approval in November and is expected to close in the first half of 2020.
What about all that debt? When closed, the combined company will have about 60 properties across virtually every U.S. gaming jurisdiction. This generates approximately $2B in EBITDA, but with $15-16B of debt, an extraordinarily high leverage ratio. Since many properties are badly in need of additional capital, this will eat into the company's EBITDA or put the company's properties at a competitive disadvantage.


---
Saturation in Regional Markets

Since 2012, commercial casino gaming has expanded into several new jurisdictions, including Ohio, Maryland, New York, and Massachusetts. Additionally, both Pennsylvania and Illinois passed sweeping expansion bills in 2017 and 2019. And, of course, tribal gaming continues to expand with dozens of new casino openings over the past few years. The problem new operators face is that initial revenues have fallen short of original projections. In virtually every state that has recently legalized casinos, new entrants have cannibalized existing competitors significantly and have not expanded the market nearly as much as projected. In New York, Resorts World Catskills, a $1B property, was put into bankruptcy by its parent company. In Massachusetts, MGM opened its $1B property in Springfield, projecting over $450M a year in revenues, but is currently at a run rate of approximately $250M. Encore Boston Harbor, a $2.6B property, with annual revenue projections of $800M or more opened in June 2019. It had a significant impact on CT and RI, causing initial double digit revenue drops across the board, but generated revenues thus far well below projections, at a run rate of only $550M to $600M annually. Slot revenue has been especially weak, at just over $20M per month.
Key questions for 2020:
Will Massachusetts approve a casino in the Southeast Region? The original 2011 enabling legislation envisioned a slots-only facility and three full service casinos, one in each of three regions. The Southeast region has been on hold, largely because the Mashpee Wampanoag tribe had planned a casino in Taunton and the State did not want to jeopardize that project. The Taunton project, however, is not moving forward, for a number of reasons and there are commercial developers with plans for casinos in other towns in the region. Given the disappointing numbers in Springfield and the Boston area, will the Mass. Gaming Commission move to approve the third commercial casino?

What will happen in Illinois and Pennsylvania with their expansions? Pennsylvania legalized up to 10 additional small casinos, none of which have opened yet. A second Philadelphia casino is scheduled to open this year. Will it grow the pie or just further cannibalize the three other area casinos? Illinois authorized six additional casinos, including a massive one in Chicago. But the high tax rate has thus far resulted in no interest from commercial bidders. When will the suburban casinos move forward and will Chicago ever get a casino?


---
Macau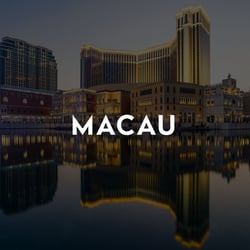 This small former Portuguese colony, but part of China is by far the largest gaming market in the world at over $36B in 2019. To put Macau's market size in perspective, the entire US commercial casino market was $41.7B in 2019, and Las Vegas, the second largest market in the world, is barely a third the size of Macau. More fun Macau facts: 1) Macau is approximately 12 square miles, compared to the 3.8M of the United States, so on a revenue by area metric, Macau generates $272,000 for every $1 the US generates per square mile! 2) Macau has only 38 casinos, so the average Macau property produces almost $1B of revenue annually. In the US, there are fewer than five properties that generate those kinds of numbers. Having come back from disastrous drops in revenue from 2014 to 2017, Macau faces a number of key questions in 2020, notably:
Will the Hong Kong protests continue and to what extent will they impact business in Macau? Macau's revenues actually were fairly steady to slightly up during the first half of 2019 but dropped virtually every month in the second half, ending down 3.5% from 2018 with the drops accelerating toward the end of the year, as protests grew in size and media coverage increased. The feeling was that as disruption in Hong Kong grew, people made fewer trips to the nearby island.


What impact will the US tariffs and the trade conflict have on Macau? While it is unclear what effects the US/China trade dust-up had, it certainly was not a positive for gaming revenues in Macau. With a "Phase One" trade deal likely to be signed in January, that may ease some of the risks and tensions going forward.


Will the Chinese economy continue its slower growth trajectory and will that begin to impact the "mass market" business. Macau has been buoyed by the mass market segment over the past few years, even as the VIP business has never fully recovered from the peak in 2013, but continued mass market growth relies on continued prosperity increases, and a slowing Chinese economy puts that growth at risk. The Chinese government has intervened substantially to help prop up the equities markets and a number of industries, but it remains to be seen whether and for how long that can continue.


---
Online Gaming Expansion
While sports betting is a $1B industry that could expand 3-5x over time, online gambling, while currently smaller, has the potential to become much larger. There are three states that allow online casino gambling: Delaware, New Jersey, and Pennsylvania. A number of other states have passed enabling legislation or are considering legislation. Concerns about responsible gaming, cannibalization, age verification, and "too much gambling," have made the online market materialize more slowly. Despite the barriers, the industry has enormous revenue potential. New Jersey's market is on a run rate of about $600M per year, and PA, which is still in its very early phases, posted $10M in revenues for November 2019, a $120M annualized pace. Given that online casino gambling allows people in highly remote areas without easy casino access to game, it does not take much imagination to envision a $10B or much larger industry if online gaming proliferates.
Key questions for 2020:
With sports betting now expanding, how many additional states take the plunge in 2020 for online casino gambling? Michigan legalized online casino gambling (plus poker, daily fantasy, and sports betting) in late December. Who might be next? Several states have bills pending.

What will the tax structure look like and how will that impact the offerings and marketing approach? Pennsylvania has a punishing 54% gross revenue tax, while New Jersey's is 13%. Michigan chose a middle ground of tiered rates from 20% to 28%. Obviously, the New Jersey entrants can afford a lot more reinvestment in their players and a greater marketing budget. What will other states decide to do?
---

2020 looks to be an exciting year with great opportunities. What are your top 5 trends? Did I miss any? Leave a note in the comments.