Two very good friends of mine, John Greene, currently the Chief Strategy Officer for Translation, and Baiju Shah, Managing Director for Strategy and Innovation at Accenture Interactive, recently co-authored a series of articles called "Liquid Expectations". The basic premise of the articles http://www.economistgroup.com/leanback/consumers/accenture-liquid-expectations/ and http://www.economistgroup.com/leanback/consumers/accenture-channeling-liquid-expectations/ , is that expectations of customer experiences seep over from one industry to another. That means that we as marketers now have to deal with a different set of expectations. Think about how our service expectations have now spilled over from one industry to another. For example, Uber is not just a transportation company, but consider how our service expectations are being met when we are trying to find our waiter to pay our bar tab and you are thinking to yourself "if Uber can find a way to make this checkout easy, why can't restaurant X?"
After reading the articles, I immediately thought of the casino industry and what are "liquid expectations" of casino customers? How can we learn from outside industry disrupters and parlay that service expectation into a better experience on the casino floor? Or better yet, what can other industries learn from the casino sector and put into place to become a better service provider to their customer base? It is an interesting thought to ask yourself and I challenge you to spend some time thinking about it.
Lack of Innovation and Risk
Our industry has suffered from a lack of innovation over the past two decades. We continue to see saturation of casino options/locations and no differentiation of service or offerings from one casino to another. Slot manufacturers continue to look at themes and try to find the next "Wheel of Fortune". Table manufacturers have created electronic table games, but the only innovation here is a lack of a FTE and it is viewed more as a cost savings then the overall customer experience. Ticket In/Ticket Out was created to keep customers in play longer as well as eliminate downtime of capital or keep it to a minimum. Where are these "best demonstrated practices" or customer's "liquid service expectations"?
For a casino industry that is based on risk , we as an industry have become risk adverse. Capital expense is being held on by all areas of the business. Non gaming outlets continue to pop up but let's ask Caesars Entertainment how that "High Roller" is doing and how the now shuttered Revel failed in their attempt to attract non gaming customers in Atlantic City. In the article, it calls out for marketers who TRULY understand and look at the business they are in from the eyes of the customers, only then can they begin to play a role in the customer's lives, not just occupy a space. Executives are afraid to spend money on technology for business insights and operational intelligence for data that has been collected by slot systems as the companies that manufacture them have only focused on delivering a slot product and not a data storage system to help these operators gain these insights. Operators must look to third party developers to help them gain these insights.
Opportunity?
There is a golden opportunity for some one/company to help these Casino Operators and begin to figure out what exactly to engage with and create some dialogue with existing and future customers. The first step is to gain access to data that is currently available. Once you have the data, then you need to begin to develop a different set of questions to ask yourself. As an example, Angela Ahmet, Director of Industry Specialists for VizExplorer, wrote about how Slot Operators need to quit looking at the metric "slot hold". In our customer's eye, it is really how much is "my personal entertainment" costing me to play on this slot machine and for how long or in simpler terms, Theo Win Per Hour. http://www.vizexplorer.com/so-how-is-that-machine-hold-treating-you/ It is when operators begin to understand this type of insight that they can begin to start seeing it from the customer's point of view. This insight will create additional opportunities that are only going to begin to plant the seeds for innovation and when we look back at it with our typical 20/20 vision, we are going to ask ourself, "Why didn't I think of that?"
Jeffrey Hoss is the Vice President of Business Development for VizExplorer, an Operational Intelligence company that builds intuitive applications providing solutions to a range of operational and marketing challenges for various industries. He also moonlights as a data scientist, a marketer, a professor, a CrossFit instructor and is still trying to figure out a way to put an algorithm together to beat his college buddies in fantasy football.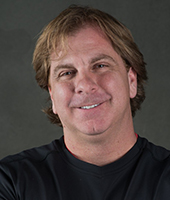 Jeff Hoss
VP Business Development
VizExplorer